Infrared Sauna Blanket - True ZERO EMF
Get a good sweat, burn calories and detoxify while you lay down inside this Infrared Sauna Blanket. You can travel and store it anywhere.
Creators of the First Infrared True Zero EMF Sauna Blanket 
- PU Non-Toxic Waterproof with Zipper
- Infrared Zero Magnetic Field Heating Wiring
- True Zero Electric Field Mitigation
- Easy Cleaning
- Portable
- No Special Installation Required
INCLUDED
- Sauna Blanket
- Digital Temperature & Timer Controller
- Travel Bag
- Ground Outlet Tester
- Power Adapters for your Power Supply of your country
Benefits of Infrared Saunas
- Glowing Skin
- Powerfull Mind Calming Effect
- Better Circulation & Heart Health
- Detoxify Toxins
- Burn up to 600 Calories
- Enhance your immune system
- Better Sleep
- Muscle & Pain Recovery
Details
- Dimensions: 190cm (75") long - circumference of 175cm (69")
- Box Weight: 9kg (19,8lb)
- Heat Level: 60º to 80º - 140F to 176F
- Timer: up to 60min - shuts down automatically after
- Voltage: 240V (EU/UK) - 120V US/CAN model
- Wattage: 600W
- Warranty: One-Year Limited warranty. Details here.
- Designed & Created in EU - Portugal
30-DAY RETURN-REFUND POLICY
Note: For orders shipped outside of the European Union. - Any duty, taxes, and additional fees incurred in the country of destination are the responsibility of the customer.
This product is not intended to diagnose, treat, cure, or prevent any disease.
Customer Reviews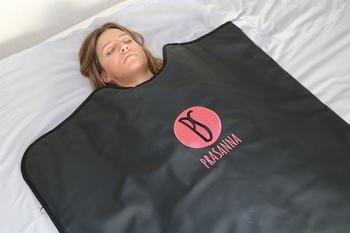 12/14/2022
My Body had NO EMF Reactions
After a few years of using infrared sauna I started to get really bad symptoms after each use. My body would tremor and my tinnitus would get really loud. I noticed I was becoming more Electro Magnetic Sensitivity. Little did i know that the sauna I had was contributing to it. Even though it had low Magnetic Fields, it was giving off extreme levels of electric fields and dirty electricity. On a quest to find a low EMF sauna I found Prasanna. Gabriel was so helpful and answered all the questions I have. After my first use, I had no symptoms and I actually sweated alot! I have tried many blankets before and I would have to stay in for 2 hours just to sweat I can really feel the difference. I feel totally relax after it. I can't wait to continue using it. The biggest win is I am not damaging my self from the EMF's and I can get the amazing benefits sauna's have to offer. This is the only sauna I will be recommending in Australia! Thanks again!
Francesca F.

Australia
03/09/2023
Infra red Blanket
The blanket is fantastic and so easy to use - I will recommend this product to holistic friends Gabriel was so helpful and clearly passionate and dedicated to his product
Victoria R.

United Kingdom
03/06/2023
Best if not The best
Everyday me and my wife enjoy the sweating of pure non emf heat. The non emf fact is the one that makes the long term use of this product as an practical investment in health and immunity. We both work all day and have better sleep and regeneration. Anyone who is serious about investing in health this is the product for you. On top of all that customer service is perfect , personal and fast. Thank you God bless us all
Robert S.

Croatia
02/26/2023
Infared Sauna Blanket
It has been a little over a week since I received my Infared Sauna Blanket and I have already seen benefits. About a month ago I started waking up in the morning all stiff and sore in my muscles and joints. I had a hard time turning in bed and getting out of it. My suspicion is that it is 5G EMF related. After the 2nd and 3rd time using the blanket I noticed a decrease in the stiffness and soreness. As the day would progress it would get even better. In the morning I was still waking up with stiffness, but it is getting less each day. I am very pleased with your product. Thank you.
Connie W.

United States
02/16/2023
Amazing customer service and the product is outstanding
I used the Infrared Sauna Blanket for relaxation and recovery and it really works.After a tough training session I used the sauna and the next day I woke up feeling fully recovered. Also is helping me to sleep better. Finally my wife had a cold and by using the sauna blanket, it helped a lot in her recovery. I can't wait to keep using it and experience all the other benefits such as detox, improved circulation and many more.
Federico B.

Spain
02/05/2023
Great product and awesome customer service!!
I did a lot of research to find a money worthy sauna blanket and I believe that the Prasanna sauna blanket is the best product out there! I discipline myself to use it twice a week and it does the job. I sweat a lot in less than 10 minutes. 1 hour session with the sauna blanket helps me a lot after my work out. I'm hoping that with the constant use of the blanket, I will finally get most of the toxines out of my body. I've noticed that the pain in my lower back disappeared and that's a good start! At some point, I had technical issues with the controller and Gabriel sent me a new one in 24h so what can I say except that "AMAZING CUSTOMER SERVICE RIGHT HERE!" I definitely recommend the Prasanna sauna blanket! Thank you again Gabriel !
Sonia A.

France